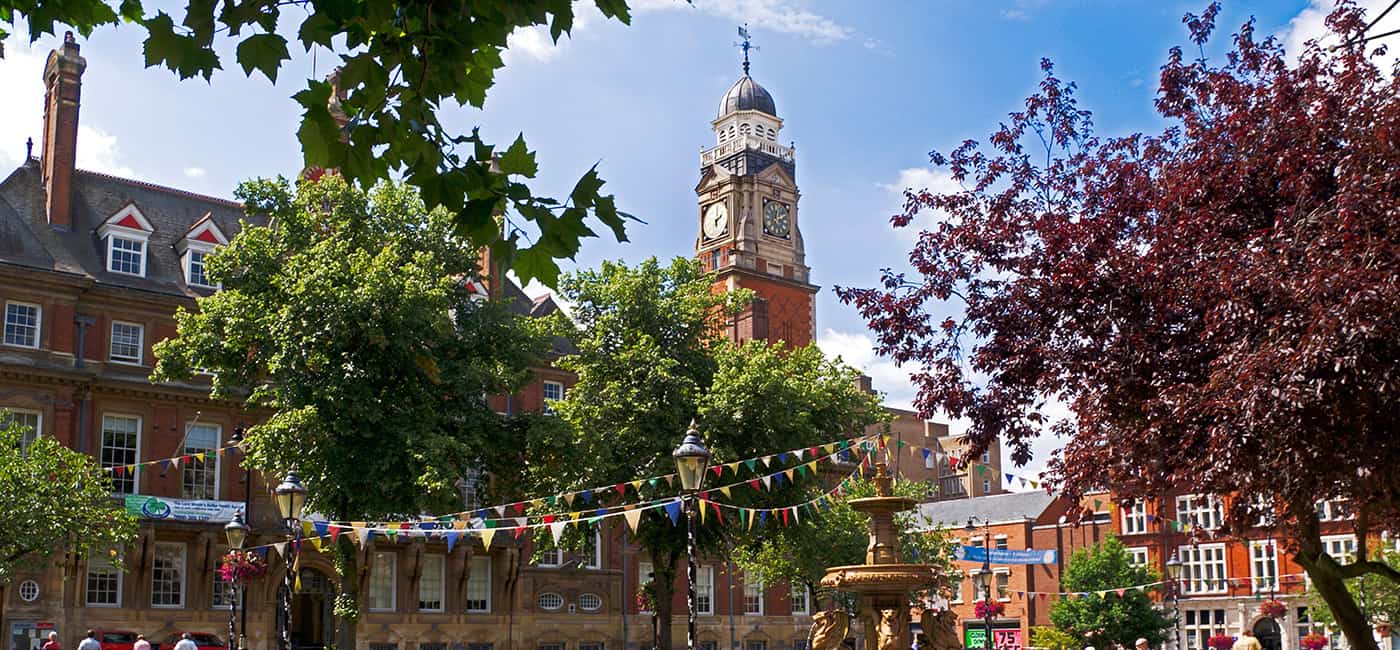 City Focus: Leicester – What's it like?
Choosing where to study. Your decision making should go beyond the course and university reputation. It should also be about the lifestyle you can expect in the city that you will call home for at least the next three years.
So, Leicester… What's it like?
Located in the East Midlands, Leicester is just an hour and a half from London with regular direct intercity trains serving the city from St Pancras.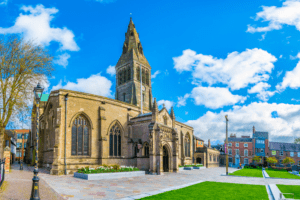 As a cosmopolitan and culturally diverse city, Leicester has a population of about 300,000 and university students make up about 35,000 of those, giving the city a young and vibrant social scene. And a city that's home to two topflight sports teams, a city full of amazing places to eat, drink, shop, explore and party the night away.
At the centre of Leicester lies the cathedral, where the remains of King Richard III have been buried since 2015 after being found in a car park! The cathedral has stood at the heart of Leicester for over 900 years.
---

What's the cost of living in Leicester?
Highlighted below are just a few typical costs for living in Leicester.
Typical costs:
Inexpensive Restaurant: £8.00 – £15.00
Takeout Coffee: £2.00 – £3.00
Bottle of Coke: £1.00 – £2.00
Pint of milk: £0.40 – £1.25
A loaf of Bread: £0.80 – £1.10
Pint of beer at a restaurant/pub: £3.45
Mid-range bottle of wine at a supermarket: £3.50 – £8.00
Cinema ticket: £7 – £12.00
Travel costs:
Adult Day: Leicester zone one with Arriva – £4.30
Academic Year Student: Leicester zone one with Arriva – £425.00 (£1.16 per day)
Adult Day – Leicester with Stagecoach – £4.50
Adult weekly – Leicester with Stagecoach – £15.00
Price of a taxi – £3.50 (start fee) and £1.86 (per km)

Leicester was named the 27th best UK city for student nightlife in The Student Nightlife Index 2019. In part 2 and 3 of our Leicester city feature we ask our Leicester team to provide you with some of  the best places to be active. and experience an event. To find fresh air. And watch top flight sport. As well as places to eat, drink and shop while living with Host in Leicester.

---

Leicester is home to two universities:
De Montfort University (DMU) – home to over 17,000 full-time students, drawn from around the world and divided across its four faculties of Art, Design and Humanities, Business and Law, Health and Life Sciences, and Technology.
DMU places a strong emphasises on career-relevant skills, many courses are endorsed by professional bodies and teaching is aligned with current industry practices. With it's extensive links to business DMU offers many students the opportunity to undertake a work placement with a variety of organisations. Including the likes of the BBC, the NHS, HP and Deloitte. Tuition fees for the current academic year (2019-20) for full-time home students are £9,250.
The university's Faculty of Business and Law – the Hugh Aston building is just a minutes' walk from the Glassworks, and the entire DMU campus is within a 5-minute walk.
The University of Leicester – home to over 14,500 full-time students and offers over 350-degree programmes across three academic colleges: medicine, biological sciences and psychology, science and engineering, and arts and humanities. From the invention of genetic fingerprinting to the discovery of King Richard III, the University of Leicester is renowned for ground-breaking research and attracting world-class academics.
Leicester university has been awarded the Queen's Anniversary Prize for Higher and Further Education on three occasions, the highest form of national recognition open to a UK academic or vocational institution. Tuition fees for the current academic year (2019-20) for full-time home students are £9,250.
The Glassworks and 41 Castle Street are within a 25-minute walk of the university campus.
---

And two Host locations:
The Glassworks.
Less than a minute walk from DMU's Business and Law school and within 5 minutes of the entire campus, and within 25 minutes of the University of Leicester, you'll never worry about being late for lectures.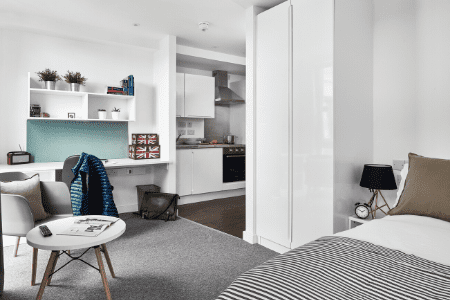 The Glassworks is right in the city centre a mix of 1920's heritage and modern build our student accommodation will make you feel right at home. Formed of three blocks, block A is a listed building with the main entrance lobby retaining its original 1927 appearance, while Blocks B and C were built to Host's exacting standards in 2016.
One of Host's most popular locations in the UK, unfortunately all en-suite rooms for September 2020 have sold out. Enjoy The Glassworks this September with a studio room from £165pw. And as always with Host, there's No deposit and No fee's. Your rent includes all your bills, and access to the onsite gym, cinema room and free Wi-Fi (up to 100mb). We even include the iron and ironing board, meaning you don't have to worry about bringing those with you.
Take a 360 tour of The Glassworks
41 Castle Street.
Want to be the first? Then 41 Castle Street is for you. A brand-new development opening in Leicester for September 2020. 41 Castle Street is the ideal location for students in Leicester. 41 Castle Street is around the corner from The Glassworks meaning the distance to uni is almost the same.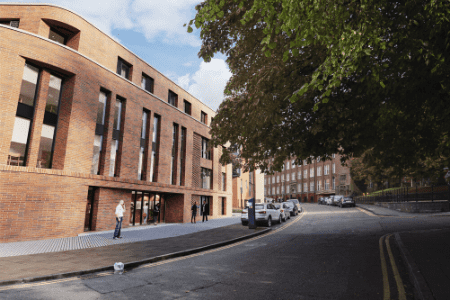 Step inside and all our rooms have been designed to help you make the most of your time at university. They're super modern and include lots of little luxuries like high-tech kitchens and beautiful bathrooms. Bury your head in a book in the quiet study room. Chill in the common room. Or challenge your friends to a game of pool in the games area.
While 41 Castle Street is currently sold out, you can still join our waiting list. Your rent covers all your bills including up to 200mb Wi-Fi. And we've included an iron and ironing board to save you a little bit of hassle.
---
Keep a lookout for Part 2 and Part 3 of our city feature. Before the lockdown. We asked Dan and Abby our Leicester Property Managers for their top places to visit in Leicester (when normality resumes).
#HostEnvironmentalPledge.
Getting serious about the environment we live in.
To become more 'environmentally friendly', Host is launching the #HostEnvironmentalPledge campaign to encourage responsible behaviour and drive sustainability across our sites throughout the UK and Ireland.
It's a simple campaign! For every percent we reduce our overall utilities (electric, water and gas) consumption by we donate to one of our nominated charities.
Show me all news
Latest news
Safer Internet Day - Top tips to protect you and your data online.

Applicant days are an essential step in your university journey. They are subject specific days which give you the opportunity to learn more about your chosen university and court.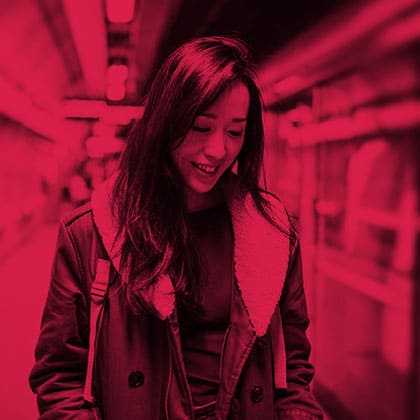 It's easy to work yourself up into a pre-exam panic, but remember that taking the right steps to put yourself in the best study mood is the most important tool you possess.