Coping with homesickness as a student
Guest blog – 3rd year student living at The Printworks, Exeter.
Homesickness is something that most people have likely felt at some point in their life. That feeling of overwhelming sadness and melancholy experienced when you're away from your familiar environment. When you're not sleeping in your own bed or eating home cooked food, and when you're not surrounded by your family and friends.
And speaking as a 3rd  year student living away from home, it's definitely not uncommon to have these feelings. The occasional fall outs with housemates, feeling lonely, and not to mention the work load that suddenly creeps up on you mid-term; all making you feel inundated and trapped, can all lead to feeling homesick.
Throughout my three years as a student at university, homesickness is something I have personally found difficult to deal with. But if like me, you're feeling homesick, there are things you can do to try to overcome it; as let's be honest, it can be pretty miserable.
Through my experiences, I have found a number of things that can reduce the feeling of homesickness and potentially help overcome it all together. Hopefully they can help you too…
1. Organisation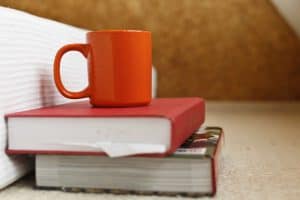 Routine is crucial. Once a routine has been established and is constructed in a way that is realistic, it can actually have health benefits. It can make you feel more positive and motivated.
According to WebMD, if you're feeling low, taking some time out to organise – whether it's cleaning your room, sorting through emails or putting a work schedule together, can make you feel more energised for the rest of the day. It also reduces the feeling of being overwhelmed because you can physically see how things can be managed, and there's nothing more satisfying than going through your schedule and ticking off completed tasks.
Having a clean and organised environment to live and work in, helps to clear your mind and get on with the task at hand – without clutter and distractions.
2. Plan ahead
It's important to make plans and put dates in the diary for family or friends to come and visit you, or for you to go and visit them. Having something to look forward to and knowing you'll soon be seeing familiar faces makes the initial feeling of homesickness much easier.
When you're feeling down or missing home, you can gain comfort knowing that a visit or trip is just around the corner. In the meantime, focus on your work and get things done, so that when you're with your friends and family you can enjoy yourself and make the most of the time together. Without having these breaks and dates to look forward to, the term can sometimes seem a scary and endless journey.
3. Real life vs Technology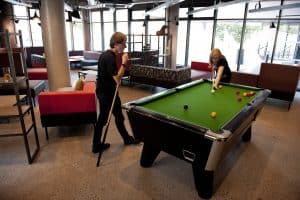 Sometimes, the simplest of things such as talking can help you overcome homesickness. Though, when I say talking, that's not logging onto Facebook, WhatsApp, Instagram etc. to see what your friends are doing. I mean getting up, going out and speaking to someone face to face.
Making an effort to have at least one conversation a day can really rationalise your emotions and make you feel better.  It may sound silly to suggest this as a solution, but you'll be surprised how many students go through the day without speaking to anyone. This is quite upsetting and can make you feel very isolated.
Living at The Printworks is a great place for talking to others. Not only is there always a friendly face at reception for a chat, but the environment has a real community feel. This makes speaking with other residents easy, whether that be in the gym, TV room or the games area.
4. Decorating your room
Decorating your student room is very important. You don't want it to feel like a cold, empty space with no personal touches. It should feel like a home from home; a place you can relax and feel comfortable in.
One of the best ways to make it feel as homely as possible is to have things such as cushions, ornaments, and photos of happy memories with your family and friends – just looking at them can be uplifting. Lighting is another way to make your bedroom feel much cosier. Instead of having just your main stark light, add in a few lamps with softer lighting to create warmth. Having soft cushions on your bed gives you something to cuddle up to and makes the room feel lived in. Why not bring along your childhood teddy, everyone has one, right?
5. Food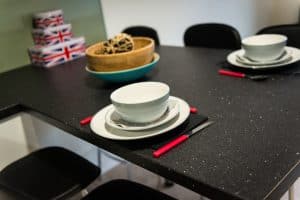 Making time in the day to sit down and eat a proper meal is something we can all forget to do in our busy day-to-day lives, but it's so important. Food not only helps to keep your body healthy, but also your mind.
According to the Mental Health Foundation, 'a balanced mood and feelings of wellbeing can be protected by ensuring that our diet provides adequate amounts of complex carbohydrates, essential fats, amino acids, vitamins and minerals and water.'
Therefore, homesickness can be regulated by ensuring we're eating the right foods at the right times. One way of doing this is to do your food shopping in advance. It allows you to choose nutritional foods for meals during the week and encourages you to make healthier food choices; instead of grabbing a pizza on the way back from lectures at the end of a long day.
Having your kitchen stocked also allows you to make meals in advance; meaning by the time you get home your food is ready to go with zero effort required – just what you need when you're tired, especially during the bleak autumn and winter months.
6. Beat boredom
If you're suffering from homesickness, there's nothing worse than being bored. It gives you the time to think about home, the things you're missing and the fact you'd rather be there. So, be pro-active, get out and be positive.
There are so many opportunities and activities to get involved in at university and your city. If you're sporty, join a sports society. It's a great way to meet new friends and keep fit – which can also benefit your mental health.
If sport isn't your thing there are many other societies to join; book, music, political and various outdoor societies, the list is endless. But, if you don't want to commit to a club, you could go for a walk, head to the gym, see some of the iconic sights your city has to offer, watch a movie, grab some lunch with a friend or socialise with other students in your accommodation's common rooms. Regardless of your interests, there's always something else you can be doing that beats sitting on your own.
7. Sleep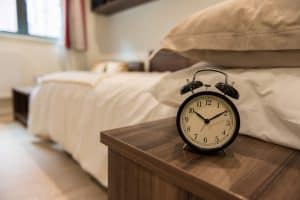 Getting a good night's sleep really does make everything better. Not only does it banish those uninvited under-eye bags, but it's key to ensuring a healthy lifestyle. If you can't get to sleep or you wake during the night, you lie there and over-analyse everything; which undoubtedly leads to homesickness.
Speaking as someone that struggles to get through the night without waking up several times, when I do achieve an unbroken eight hours of sleep, it's the best feeling. Having slept well at night helps you focus during the day, which in turn can improve your ability to do well while at university. And if you're doing well, that's one less thing to worry about.
So, if you're feeling home sick, why not try one, or all of the above? You never know, as they have for me, they could work for you and make you feel so much better. And remember, it's ok to feel homesick, you're certainly not the only one that might be feeling it.
Looking for student accommodation in the UK and Ireland? Check out our locations to find your home from home or contact us for more information about living with Host while at university. 
#HostEnvironmentalPledge.
Getting serious about the environment we live in.
To become more 'environmentally friendly', Host is launching the #HostEnvironmentalPledge campaign to encourage responsible behaviour and drive sustainability across our sites throughout the UK and Ireland.
It's a simple campaign! For every percent we reduce our overall utilities (electric, water and gas) consumption by we donate to one of our nominated charities.
Show me all news
Latest news
Safer Internet Day - Top tips to protect you and your data online.

Applicant days are an essential step in your university journey. They are subject specific days which give you the opportunity to learn more about your chosen university and court.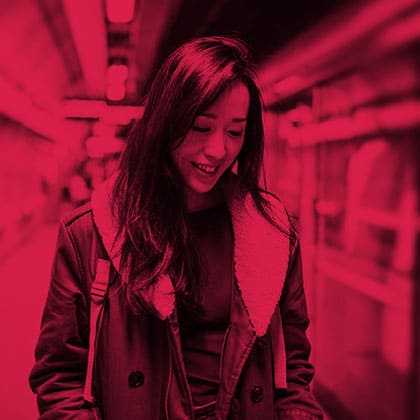 It's easy to work yourself up into a pre-exam panic, but remember that taking the right steps to put yourself in the best study mood is the most important tool you possess.