Charitable Causes
Host is proud to work with a number of local, national and global charities and community organisations, supporting the work they do and helping to make a difference to those in need. We aim to positively impact those in need through fundraising, volunteering, donations and by raising awareness.
Our employees are committed to supporting many great causes and play a huge role in making a difference. With such a large community of students living with us across the UK and Ireland, we also encourage student participation and engagement where appropriate.
Below you can learn more about the great causes we support – and how we help them do what they do.
---
Host's Nominated Charities of the Year 2020/21
Every year, we choose three charities to work with and support as part of our Environmental campaign, the #HostEnvironmentalPledge. Our chosen charities for 2020/21 are below:
BulliesOut
BulliesOut provides anti-bullying help, support and information to individuals, schools, youth settings and the workplace. Find out more at bulliesout.com.
Planet Patrol
Planet Patrol is an international movement sitting at the intersection of wellbeing and environmentalism. The mission: clean up the planet through community action and citizen science to drive industrial and political change that serves to protect the Earth and wildlife from the harmful effects of plastic pollution. Find out more at planetpatrol.co.
World Land Trust
World Land Trust is an international conservation charity which protects the world's most threatened and biologically important habitats acre by acre. Find out more at worldlandtrust.org.
As part of the campaign, we work with the three charities to raise awareness and support their projects, and at the end of the year, we make a donation to each charity based on how much energy we've saved and who our students have chosen to support.
You can read more about the 2020/21 campaign here.
---
Charity Donation Bags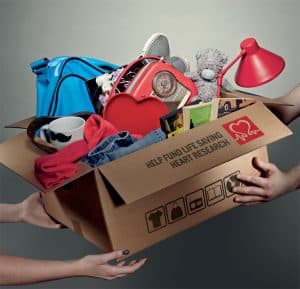 When our students move out at the end of the year, they quite often leave their unwanted items behind. Instead of these quality items being thrown away, we encourage our students to donate their unwanted items including clothes, shoes, bags, and books to a good cause.
In all of our accommodations, we have British Heart Foundation (BHF) and/or Cancer Research donation points and bags for our students to donate their unwanted items to these two fantastic charities.
---
Food Donation Banks
Throughout the year,  particularly at times when students are vacating our accommodation for Christmas and Summer, we collect unwanted non-perishable food items to help people in need.
We support food bank collections such as those organised by Co-Op Food Share and The Trussell Trust.
---
Staff Supporting Charity
Along with the three nominated charities of the year, that everyone at Host supports, many of our employees go above and beyond to support causes they are most passionate about.
From bike rides and boxing matches, to marathon runs and mountain walks, our employees regularly take part in national events to raise money for charity.
---
To learn more about the charities Host support, or to find out if we can help support your cause, contact us at info@host-students.com.