Coronavirus Guidance
As it always has been, the safety and wellbeing of our students and team members remains our highest priority. We are doing everything we can to ensure your safety and provide maximum flexibility as the situation around novel coronavirus (COVID-19) continues to evolve.
With that in mind, we wanted to update you on the actions we have taken in response to the outbreak. See below for more information.
Latest updates:
We will continue to update this page with the latest information regarding bookings, on-site safety and how we're supporting our students and teams.
---
1. What is Coronavirus?
COVID-19 is a new illness that is caused by a virus called Coronavirus and can affect your lungs and airways.
The main symptoms are:
A high temperature – this means you feel hot to touch on your chest or back.
A new, continuous cough – this means coughing a lot for more than an hour, or 3 or more coughing episodes in 24 hours.
Anosmia – this is the loss or change in your normal sense of smell and can have an effect on your taste.
For even more information about Coronavirus, its symptoms, how to avoid catching it and what to do if you have it, visit the NHS or the HSE websites.
---
2. Students Booking for 2020/21
At Host, we understand that there is a lot of uncertainty surrounding COVID-19 and the possible impact on your A-Level and university exam results and subsequently your place at university.
For this reason, and to give you financial peace of mind, we have introduced a No Place No Pay guarantee for prospective students applying to higher education this September and have revised some of our payment plans.
---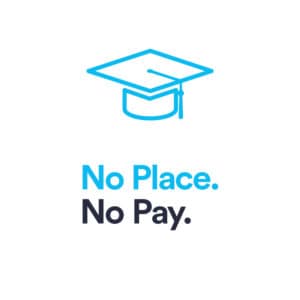 No Place No Pay Guarantee*
Book a room at Host today, and if you don't get the grades you need for university and no longer require the room you won't pay a penny.
This guarantee is only open to prospective students applying for higher education for the 2020/21 academic year.
If you've already booked a room with us, we've rolled back No Place No Pay to include ALL prospective higher education students who have booked a room with Host for the 2020/21 academic year.
*Please note not all Host locations are offering the No Place No Pay guarantee. Please visit your chosen accommodations webpages for all the terms and conditions.
---
Revised Payment Plans*
To make securing your room for the new academic year even easier, we've reduced the initial rent payment due upon booking to £100. The remaining balance of the initial rent payment, which would normally be due upon booking, will now be added to the balance due upon your second payment date.
We've also revised the payment amounts of our instalment plans. The second payment which is due in August (or July at some locations), may now be split into two if this is more convenient for you. Therefore, 50% of the balance will be due on the original payment date, but the remaining 50% can now be paid within 7 days of the tenancy start date.
*Please note not all Host locations are offering the Revised Payment Plans. Please visit your chosen accommodations webpages for more information.
---
3. International Students Travelling to the UK for Study
We understand there is a lot of uncertainty surrounding the COVID-19 (Coronavirus) at the moment, and as a result possible travel restrictions. For this reason, if you book a room at a Host property for September 2020 today, but are then disallowed from travelling to the UK due to the relevant Government travel restrictions, exclusively as a result of COVID-19 and therefore no longer require the room, you will be released from your booking. See below Terms & Conditions.
International Students – Cancellation
---
4. Our Commitment to Health & Safety
We have been working hard planning for our future, looking at ways to adapt our accommodation and our service to ensure that our students and team members are kept safe.
When our students move in for the new academic year, there will be a number of additions to Host's procedures designed to set an even higher standard of cleanliness and safety at our accommodation.
Specific areas of focus include:
In communal spaces, Host has added to its already rigorous cleaning protocols, paying close attention to high use touch points such as door handles, handrails and lift controls. This cleaning is also done with increased frequency.
Hand cleaning facilities will be placed at entrances and exits of all accommodation buildings.
Protective screens will be installed at reception to provide an extra level of precaution for both students and staff.
Signage will be placed in reception and communal spaces to remind students, staff and visitors to maintain social distancing protocols.
Furniture in communal spaces may be removed or re-arranged to allow more space for distancing.
---
5. Current Residents
We understand you may have lots of questions, so we're doing all we can to help answer these for you. For this reason, we've compiled a document with Frequently Asked Questions for students who are currently living with us.
---
Cancellation Policy & Refunds for Current Residents
Host Student Housing Limited are the managing agent of your accommodation provision.
We have been in dialogue with the various building owners with regard to the current Coronavirus situation and have therefore reflected these discussions within the Cancellation Policy for your property.
Below is a list of all the properties that we manage on behalf of the numerous building owners and also a link to that site's Cancellation Policy.
Please be advised that discussions are ongoing with all of our building owners and we will update the relevant site's Cancellation Policy when we have received authorisation to do so. Please therefore keep checking this page and the links below for further updates.
Furthermore, we have included below for your information, a link to the advice given to students by the Minister of State for Universities on behalf of the Government. We have also included a link to the advice that has been published by Unipol who administer the National Code of Standards for Student Accommodation. Please read both articles.
Ministerial Statement Unipol Advice
Building:
---
6. Our Thanks
As we constantly evaluate and update policies and protocols, we want to extend a special thank you to our team members. They have been working tirelessly to support our students and ensure their health, safety and wellbeing.
From everyone at Host, we would also like to say a huge thank you to all the NHS staff and the key workers. Thank you for all your hard work during these unprecedented times – you're all doing an amazing job!