Shand House, Cardiff; my home from home
Guest blog – 1st year student living at Shand House, Cardiff.
I can't believe it's already been six months since I left my little North Walian town and moved to Cardiff. The time has honestly flown by and for now, this is most definitely home.
Although my Fresher's week feels like a lifetime ago, and a very distant, yet unforgettable blur, I can vividly remember the day that I arrived in Cardiff. My mum and my two brothers drove me down, not knowing anyone or where anything was. My mum was franticly panicking because of the busy city traffic. I sat crammed between suitcases and an ironing board, contemplating whether this uni thing was a good idea?!
Arriving at Shand House
However, as soon as I stepped into Shand House, Alex (the assistant hall manager), was there to ease my nerves and made me feel so welcome. On arrival you're given a tour of the building; showing you the washing rooms, the funky garden, the massive common room and then up to your room you go.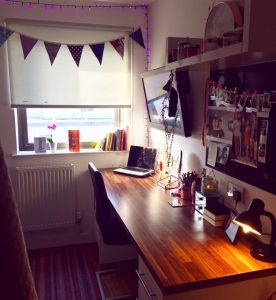 It's funny looking back and thinking of the little things I worried about before the big move…What if I can't find Shand House? What if there aren't enough plugs?  How do I know which bus to catch? Where is Queen Street? These are all very distant worries. However, it's only natural to think of these things before moving away from home for the first time. And as if the moving wasn't enough of a worry, I had my course to think about too! Luckily for me, I was almost positive that I would love it…
About my course
I should probably tell you what I do here. Well, I'm on a BA performing course that's run by the University of Wales Trinity St David.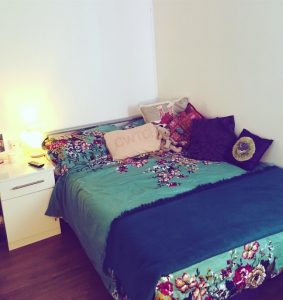 It's quite different to your typical uni courses, that generally consist of a modest 6-hour week. We're in at 9:30am and finish at 5:30pm, Monday through to Friday.
With such a full-on course, it makes me appreciate having such a nice place to come home to every day, and not having to worry about things such as blocked showers or a dodgy bed! Living in accommodation that's so close to the university and city centre has been a life saver too. Especially when I hit the snooze button a few too many times, or when I forget that I am the one responsible for making my own dinner now, and I have nothing but yesterday's pasta in the fridge. Welcome to the life of a student!
What's Cardiff like?
Being the theatre fanatic that I am, one of the things that appealed to me about Cardiff was its vibrant Arts culture that's imbedded so deeply in the city. With theatres such as the Sherman, New Theatre, Wales Millennium Centre and Chapter continuously showing and producing professional shows and plays. I'm also a sucker for a good old shop…though a student loan and Zara being only 10 seconds away is a lethal combination. The biggest lesson I've learnt during these six months is definitely self-control!
There are so many things to do in Cardiff on my weekends off, I haven't covered half of them yet. The St David's shopping centre is brilliant for when my mum and dad or friends come to visit for the weekend, and we fancy some food whilst shopping.
Now I've been here several months, I'm also getting to know some of the locals' favourite places for food and drinks. I personally loooove the Potted Pig for its lovely food, but most of all for its ginormous selection of gins! There are also some really cool little cafes near City Road that most newbies of the city wouldn't know about. Stag Coffee on Crwys Road does the most amazing breakfast, PERFECT for that hangover! With my sister living in Cardiff and being a Vegan, we love going to Ana-loka on Albany Road or Blanche Bakery 16 Mackintosh Place, which do the best donuts EVER! And you can't forget Cardiff Bay which has some really nice restaurants too. It's a short walk from Shand House, or you can catch the train from Queen Street Station which couldn't be more convenient.
Nightlife in the city…
However, I've left the best bit of Cardiff until last…yes, you've guessed it, the nightlife! Having lived 30 minutes away from Chester at home, I wasn't shocked with the thought of clubs and late-night taxis. Though, I was slightly apprehensive about losing someone and not knowing the way home; seeing as though I'd never been on a night out in Cardiff before! But to my delight, getting back to Shand House from town is just a matter of walking in a straight line down the main high street, and before you know it, you're home! It's also really reassuring having a security code to enter Shand House. As well as a security guard in reception all night, and knowing no-one is able to come in.
During my first week in Cardiff, we went from pub to pub and usually ended up in Pryzm nightclub. We had some fancy-dress nights and other nights we would have to follow a second-year student. Now though, I've got to know the places I prefer to go depending on what kind of a night we're after. Turtle Bay is my favourite place to go, I love going for food and cocktails with the girls there. With cool decor and aesthetically pleasing cocktails, it's the perfect place for that Instagram pic. We often head to Buffalo Bar, it's only a five minute walk from Shand House and has the best drinks.
…and at Shand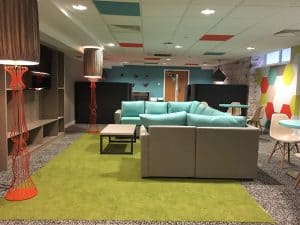 But before a night out, me and my friends always meet up in the common room at Shand House and start prinking (pre-drinking) there. It's such a good place to play drinking games and listen to music without disturbing anyone. It was definitely the place everyone got to know each other, and where friendships were made. I can honestly say that I've made some of my bestest friends by coming to uni. I'm not sure where I'd be without them.
Final words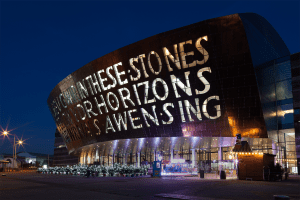 My overall experience of Cardiff so far has been the best, and I can only predict that my knowledge and love for this city will grow even more the longer I live here. It's such an exciting city, full of different cultures, things to do, places to visit and experiences to be had. I have been pleasantly surprised with the warmness of the people here. They've made the move from home such an easy transition.
If you would like to know more about living at Shand House in Cardiff, you can contact the team directly and they'll be happy to help. Or take a look at our other locations in the UK and Ireland and find your home from home as a student.  You can also follow us on Facebook, Twitter and Instagram for the latest updates.
#HostEnvironmentalPledge.
Getting serious about the environment we live in.
To become more 'environmentally friendly', Host is launching the #HostEnvironmentalPledge campaign to encourage responsible behaviour and drive sustainability across our sites throughout the UK and Ireland.
It's a simple campaign! For every percent we reduce our overall utilities (electric, water and gas) consumption by we donate to one of our nominated charities.
Show me all news
Latest news
Safer Internet Day - Top tips to protect you and your data online.

Applicant days are an essential step in your university journey. They are subject specific days which give you the opportunity to learn more about your chosen university and court.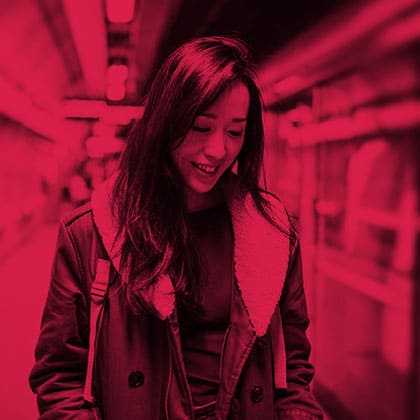 It's easy to work yourself up into a pre-exam panic, but remember that taking the right steps to put yourself in the best study mood is the most important tool you possess.