Time to Talk Day 2020.
Thursday 6th February marked Time to Talk Day. A chance for everyone to be more open about mental health. A chance: To talk, to listen, to change lives.
The day is all about encouraging people to have a conversation about mental health. The day tries to bring the nation together to get talking and break the silence around mental health problems. Mental health problems affect one in four of us, yet people are still afraid to talk about it. For people with mental health problems not being able to talk about it can be one of the worst parts of the illness.  So, by getting people talking about mental health we can help break down stereotypes, improve relationships, aid recovery and take the stigma out of something that can and does affect us all.
As part of our commitment to the health and wellbeing of all students living in our student accommodation, we asked all our locations to take part in Time to Talk Day. To borrow a well-known marketing slogan, we got our sites to get a load of KitKat's and encouraged our students to 'Have a Break – Have a KitKat' on Host. Here are a few images of how our sites participated in the day.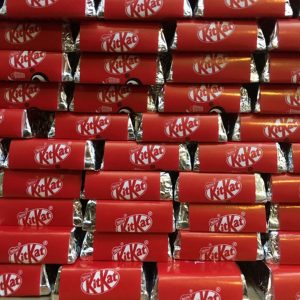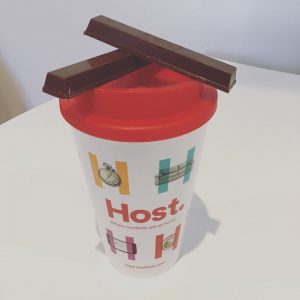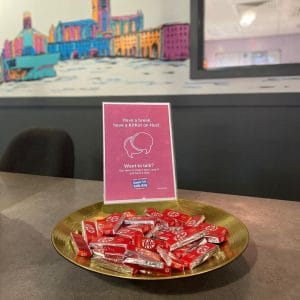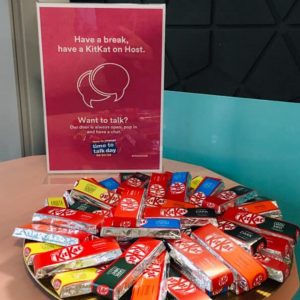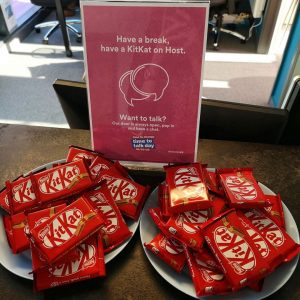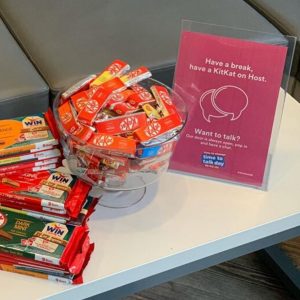 ---
Struggling and want to talk?
Talk with your friends, family, whoever, just be open and don't be afraid to speak out. Remember, you're never alone and your university will have a student health service, they are there to help you whenever you need to talk or for anything and everything. Don't want to speak in person? Try one of these free services:
Samaritans: 
Tel: 116 123 (free from any phone)
Email | Website
Nightline Association:
Website
Anxiety UK:
Tel: 08444 775 774 | SMS: 07537 416 905
Email | Website
SANE:
Tel: 0300 304 7000
Website
BEAT – Eating Disorders:
Tel: 0808 801 0677 (adult helpline) / 0808 801 0711 (youthline)
Email Adult helpline | Email Youthline | Website
MIND Infoline:
Tel: 0300 123 3393 | SMS: 86463
Email | Website
Papyrus – Prevention of young suicide:
Tel: 0800 068 41 41 | SMS: 07786 209697
Email |  Website
#HostEnvironmentalPledge.
Getting serious about the environment we live in.
To become more 'environmentally friendly', Host is launching the #HostEnvironmentalPledge campaign to encourage responsible behaviour and drive sustainability across our sites throughout the UK and Ireland.
It's a simple campaign! For every percent we reduce our overall utilities (electric, water and gas) consumption by we donate to one of our nominated charities.
Show me all news
Latest news
Safer Internet Day - Top tips to protect you and your data online.

Applicant days are an essential step in your university journey. They are subject specific days which give you the opportunity to learn more about your chosen university and court.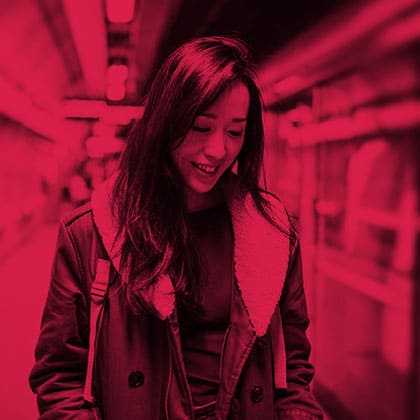 It's easy to work yourself up into a pre-exam panic, but remember that taking the right steps to put yourself in the best study mood is the most important tool you possess.