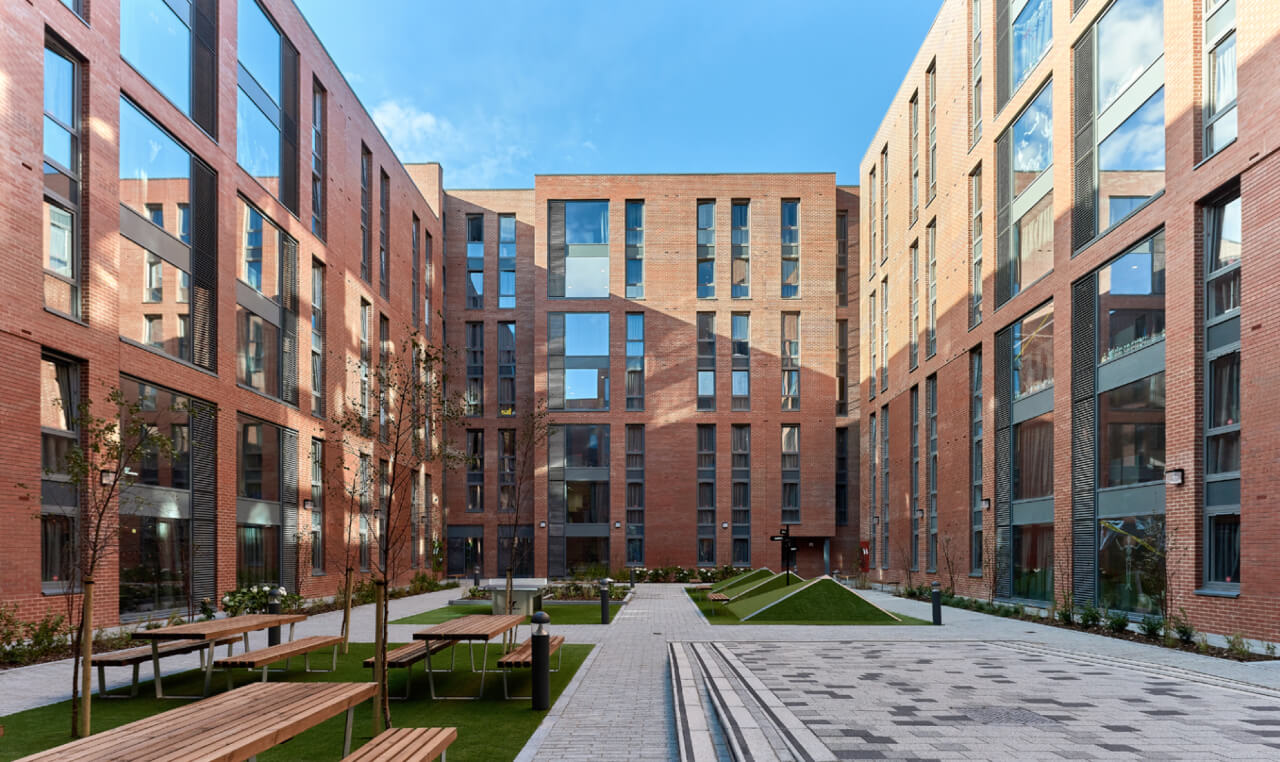 Working with us
Partnering with you from day one
Our process begins with an in-depth consultation on any prospective or current scheme to investigate the market opportunity, the projected costs and income, and the respective market dynamics. And from there, we can offer a full suite of operational service areas (see panel, below).
In addition, we are experts at taking on existing buildings and giving them a new lease of life.
We are committed to improving the performance and maximising the revenue of buildings that we take on, both in terms of letting and by advising on refurbishment where necessary.
Working together
We have location-specific management teams that remain dedicated to a scheme from start to finish. They're responsible for hiring and training all staff including third party contractors, and design and implement best-in-class processes to run through the lifetime of a project. Over the years, we have developed close, ongoing relationships with universities and engage with them to maintain our high standards.
In many cases we negotiate nomination arrangements with our university partners and can guarantee any number of beds – up to a complete site or hall –to meet the needs of the local student population.
We'll work with you every step of the way.
Operational
proficiency
• Pre-operational advisory
We can guide you through the design phase to ensure the scheme works for both residents and investors. Our service involves site visits and mystery shopping, reviewing plans, procuring operational contracts and offering feedback on building strategies.
• Mobilisation and marketing
Each scheme deserves a tailor-made marketing strategy that maximises awareness and increases the likelihood of achieving full occupancy from the start. We'll also build an on-site team to manage your property and ensure your building is run efficiently.
• Operational management
Our on-site service covers every aspect of tenancy management from taking bookings, to Health & Safety compliance and event planning. We provide operational reports on a regular basis and monitor maintenance levels.
• Financial management
You'll receive detailed financial reports throughout the life of our partnership so you can monitor the performance of your investment. We'll work to an agreed annual budget and control cash flow by collecting rent and supplier payments.
Development & investment excellence.
We provide services that include site identification, procurement, project and delivery, full due diligence and underwriting.
Site identification & acquisition
We have over 25 years' knowledge and experience in the student accommodation market, sourcing locations and accessing the right opportunities. You'll be provided with market studies on local student demand and we can draw on our relationships with universities and key professionals in each location.
Our in-house development appraisal capability can establish viability of a site before you begin the acquisition process, and naturally, we can help with developing a business plan and sourcing robust finance for a scheme.
Our expertise at a glance
We know the industry and what students want
Good record of acquiring subject to planning sites and securing suitable consents
Acquisition due diligence and risk analysis
Proven track record of success
Delivering genuine value to investors through intelligent site acquisition
The scheme takes shape
You'll find our proven ability to secure appropriate planning permission and deliver designs that amplify a site's potential a real asset. Working with us, you will have access to an established network of design and professional consultants to help you achieve planning and development delivery – on time and on budget.
Our specialist skills at a glance.
A detailed design and development process based on over 25 years' experience
Optimising designs for operational efficiency and revenue generation
Managing competitive tender processes
Providing development management services
Securing funding
Establishing joint ventures
Securing planning consent
Download our corporate brochure
In this brochure you'll learn:
Operational proficiency
Development & investment excellence
Revenue reassurance & optimisation
What sets us apart
Download
Our awards.


All dedicated to you.

We provide an award-winning service that our students have become accustomed to. Our management and staff always strive to exceed and build on the good reputation we've earned over the past 25 years. The Global Student Living Index exclusively recognises quality based on student feedback. As the people voting are the ones who live with us, you can be sure you're in safe hands.